HOW TO BUILD A COMFORTABLE HOME WITH YOUR NEW CAT
Tips For Adopting Your New Cat
Make sure you have the necessities for your new cat

Food, water, litter, a scratching post and a comfy bed are essentials for your new friend to feel comfortable.
Remember, if you have another cat - you want each cat to have their own bed and scratching posts. You also want to have one litter box for each cat plus one additional box.

Give Them Some Space

Don't force the relationship - some cats take longer than others to warm up to their new home and family.
Give them space to explore their new home, at their own pace, to find their favorite spots and get used to the scents.

Learn Their Personality

Your cat will appreciate being able to access their favorite elevated spots
Some like toys, some like treats, and some are happy with play time. Give them choices and see what they prefer.

Use FELIWAY® Optimum to help keep your cat calm during change

Help reduce common signs of stress, including environmental changes.
An average satisfaction rating of 9.1 out of 10.
FELIWAY® Optimum is Vet Recommended and Satisfaction Guaranteed.
Discover how using FELIWAY® Optimum can help you bond with your new cat.
Provides enhanced serenity in the face of everyday stressful situations
Provides enhanced serenity in the face of everyday stressful situations
Seen on TV

Recommended by vets

+ 1 million Facebook likes

+ 25 years of expertise
TESTIMONIALS
See how FELIWAY® helped these cats: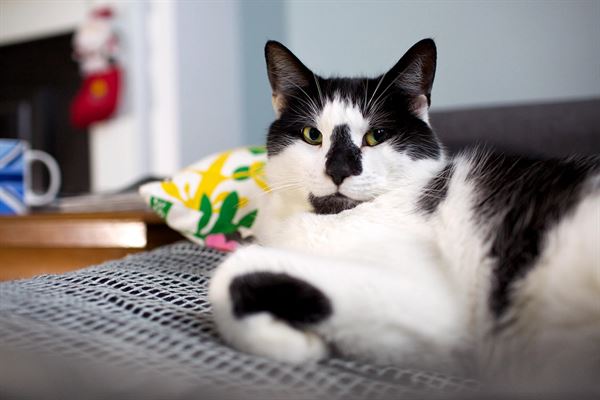 How FELIWAY helped Cassius Disco manage changes in the home

It worked - No more scratching!
My cat has been scratching at the couch and a chair for 1 year. Finally I bought this stuff. It worked immediately and my cat has...
Read more

How to get Bird the cat to the vet
It's always important to remember that cats love routines. It's important to continue their normal routine - mealtime, playtime, etc. Bringing them into your home is a big change. Patience is key. It may take some time to learn your new friend's habits, what they like and don't like, and their temperament. Check out our blog on understanding your kitty's body language.
Hiding may also be common at first. If you notice your cat is not eating, check out some reasons why (and possible solutions). Think about giving your new feline several options for space. Many cats feel safer when they are up higher and can watch the world below them. Make sure there are various levels available for lounge and play.
If you're bringing your new cat home to other pets, we also have tips for introducing your pets!