HELP YOUR CAT FEEL AT HOME IN YOUR NEW HOME
4 Tips for Helping Your Cat Through a Move
Use Familiar Scent

Place your cat's favorite blanket or piece of clothing in the new space.
Familiar scents will help your cat feel safer and more comfortable.
Start out with one dedicated room where your cat can adjust at his or her own pace.

Let Your Cat Explore

Let your cat figure out their new space on their own
They may hide at first, but once they feel comfortable they will come out. Remember to be patient! Change can be stressful, especially for your habitual cat.

Use FELIWAY® Optimum to Help Keep Your Cat Calm During Change

FELIWAY® is a vet recommended brand to help reduce stress in cats
FELIWAY® Optimum is our best solution, and may help to reduce stress during a move for your cat; try it risk free with our satisfaction guarantee
Learn more about using FELIWAY® Optimum during your move.


Engage & Play

Even though you're busy unpacking and organizing, don't forget to spend time with your feline friend(s).
Seen on TV

Recommended by vets

+ 1 million Facebook likes

+ 25 years of expertise
TESTIMONIALS
See how FELIWAY® helped these cats: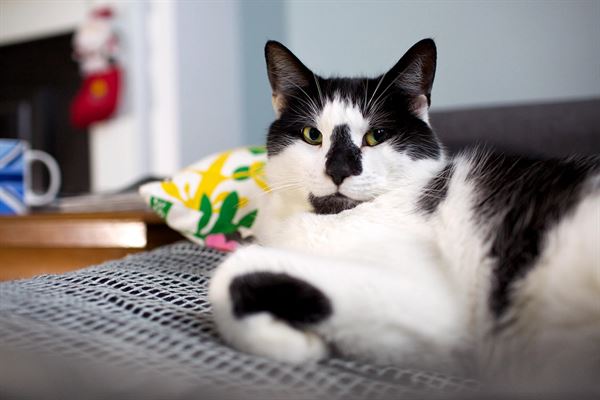 How FELIWAY helped Cassius Disco manage changes in the home

It worked - No more scratching!
My cat has been scratching at the couch and a chair for 1 year. Finally I bought this stuff. It worked immediately and my cat has...
Read more

How to get Bird the cat to the vet
One of the hardest parts of the move may be getting your cat from one place to another. Many cats don't love to travel and may get anxiety in their crate or in the car. We have some tips on how to help ease your cat's stress when traveling.
To help your cat feel safer during your move, dedicate one room as "their room," where you can close the door and they can stay out of the moving chaos. This helps keep them away from open doors, people going in and out, and all the noises that come with a move. Let people know that this is the cat's room and shouldn't be opened. Make sure they have everything they need, such as food, toys and a litter box. This is the best place to plug in your FELIWAY® Optimum diffuser (pro tip, plug in a day or two before if you can). You can also play soothing music to help mask the moving sounds.
Before you let your cat explore the new house, try to have as much unpacking done as possible. Big furniture items should be in the place they will stay and noisy items should be put up. Minimize the amount of changes they will continue to experience in the home.
Once your cat feels comfortable in their room, they are ready to explore. Give them plenty of time and space to adjust to their new environment. Keep a close eye on them and see how they are adapting. Try to keep your routine as normal as possible (meal time, play time, etc). If your cat is still showing signs of stress, like hiding or inappropriate peeing, continue to use FELIWAY® Optimum as a more long term solution.